VersaDrill offers both surface and underground mineral exploration drills, and its products are known for their versatility, durability, top-notch performance, and efficiency.
Our drills can be customized in a number of ways. You can even customize specific components to make sure your rig is exactly what you need. What's more, the ability to change parts means that replacement is quick, shortening your downtime after a breakdown. That makes our rigs a sustainable and cost-efficient solution.
We manufacture our drills in our state-of-the-art facilities, which shorten production time and generate considerable savings.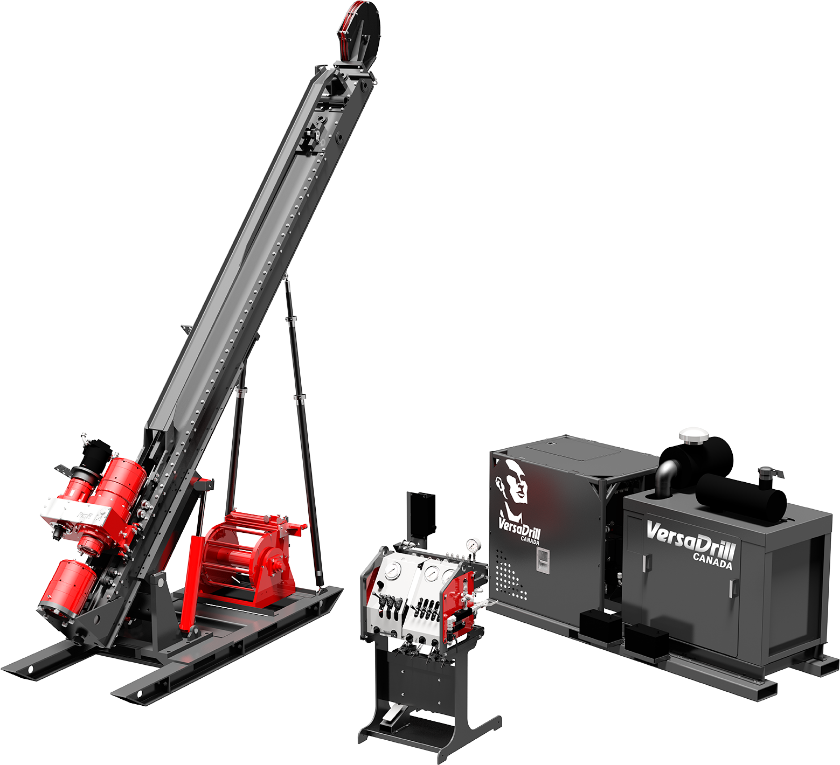 Our highly safe and reliable diamond exploration drills are the perfect choice for drilling and exploration companies that need superior results in even the most challenging conditions.
Safety for operators
We have taken great care to make sure that drillers have a safe working area, away from moving parts.
Adaptability to different applications and terrains
Including surface and underground drilling.
Superior performance
Our surface rigs are equipped with high-capacity drills that can reach as far as 6230 ft (1900 m) and feature slow feed control to optimize drilling.
Quality materials
The heavy-duty construction keeps giving optimal results, even with long-term use.
Manufacturing process
The cutting-edge design is field-tested to ensure our drill rigs keep providing the performance and reliability you need.
Easy maintenance
All master components are in one place for easy maintenance.
How it started and where it's going
was founded in Val-d'Or, Canada, in 2000 with the mission of building an innovative and reliable drilling platform to serve the industry's needs. Put simply, VersaDrill was created by drillers, for drillers. We understood the problems drillers encounter out in the field, so we tested a number of drills between 2004 and 2007 to perfect the design that is now used around the world.
VersaDrill Canada is founded by Steve Lagacé, Denis Lyrette, and Serge Bellefeuille
VersaDrill opens for distribution through a network in Canada, as well as the United States, Mexico, Peru, Chile, Russia and Italy.
VersaDrill joins the Rouillier Group
VersaDrill develops the very first fully autonomous drill rig
After 7 years of partnership, VersaDrill merges with MBI Global in the Rouillier Group
VersaDrill continues to grow and innovate!
Need a quote?
Are you looking for a drilling solution or are you interested in one of our products? Our experts will be happy to provide you with a quote upon request.