The changing world of drilling
Innovation is a hot topic for all professions and industries these days, as they look for ways to meet corporate needs while keeping employees happy. The drilling industry is no exception, and it's in the middle of a transformation. To continue attracting the next generation of drillers, the profession needs to evolve and renew itself.
In response to market needs, MBI Global decided to develop and launch a drill rig that would change the face of the drilling industry. This drill has been developed under the VersaDrill brand, and what sets it apart is the fact that it's autonomous. It's not just responding to operational needs, either—it's redefining what it means to be a driller.
"The goal of the autonomous drill rig was to replicate a driller's instincts with programming."
— Joey Gosselin, veteran driller who contributed to the development of the autonomous drill rig
From design to mine
The autonomous drill rig has been in development since 2015, and it made its mining debut in 2020. Agnico Eagle agreed to install the system at the Goldex mine, where Rouillier Drilling is responsible for drilling. This collaboration has led, and continues to lead, to improvements in the machine's features and ergonomics.
For nearly 3 years, we've been working with Joey Gosselin, an experienced driller at Rouillier Drilling, to develop the drill of the future. The development process has been one of trial and error, adjustments and improvements, but above all, it's been one of passion! A shared passion driven by a desire to make life better for drillers.
Since it first started running in 2020, the autonomous drill rig has benefited from numerous adjustments to its drilling angle, ergonomics, and features to diversify the types of drilling it can do. These changes have been suggested by Joey, the machine's main operator for several years. This important step in putting the rig into practice has allowed us to readjust and modify different parts to meet drillers' actual needs. Thanks to the expertise of Joey and his colleagues, the drill reacts like a driller to prevent and solve problems.
Why "autonomous"?
What makes this drill autonomous is its ability to work on its own (to a point, of course!). It eliminates the need for drillers to handle rods and do a dozen other small tasks while drilling. If conditions are safe, a single operator can operate it and let it drill while doing other related tasks. If the driller needs to take action, the drill interface will issue a warning so that the driller can return to take care of it. If necessary, it will stop itself.
The autonomous drill rig is also equipped with artificial intelligence (AI), meaning it can learn. It continually analyzes the makeup of different soils and can even learn to predict the best path to take to reach a target. In fact, it can do so even more accurately than an experienced driller—we're talking about a margin of error of just 3–4 metres!
By collecting all kinds of data on the soil and its own productivity, the autonomous drill rig gives geologists a better look at soil composition while providing useful data for production monitoring.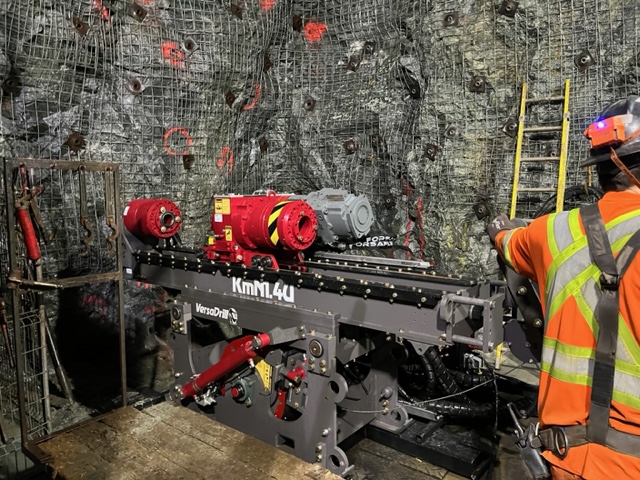 An impressive performance! 
Rouillier Drilling employees Hengy Bourgault, Project Superintendent, and Jonathan Howison, General Superintendent, had a lot to say about the advantages of the autonomous drill rig! Not only does automation save time, it also prevents monetary losses. It requires fewer repairs than a traditional hydraulic drill rig, thanks to its ability to prevent situations that could cause breakage. In two years, the autonomous drill rig at the Goldex mine has only needed preventive maintenance once, and it's had no major breakdowns and no head or pump changes.
Its efficiency also reduces the risk of human error: no matter who's at the controls, everyone drills the same way, so there are fewer deviations. What's more, by requiring just one operator instead of two, it helps ease labour shortages and reduces the number of people underground, thereby reducing health and safety risks. Speaking of OHS: the autonomous drill rig reduces the physical effort required to drill, which will in turn reduce the long-term impact on the drillers' bodies.
What do the drillers have to say?
Having passed several tests and proved its worth, the autonomous drill rig is now operated by several drillers who have been trained by Joey. We've found that although some may be a little hesitant for fear of change, a few hours at the controls are often enough to convince them that the autonomous drill rig is the future of drilling.
What's more, the rig is so easy to use that training time can be cut from months to just days! Some drillers say that the autonomous drill rig is teaching them a lot about drilling, and that after a few shifts with it, they have a better grasp of the science of drilling.
"This innovative machine is going to become a must-have in the coming years. We developed it in the field, not in a laboratory where everything's theoretical—that's one of its biggest strengths!"
— Alain Beauchesne, Engineering Manager at MBI Global
We firmly believe that innovations like this will secure the future of drilling. As well as reducing the number of drillers needed, it democratizes the profession by making it easier for more women to enter the mining industry. In fact, two young women are among the lucky ones to have been trained on the autonomous drill rig—a great source of pride for us and for Rouillier Drilling!
This collaboration with Rouillier Drilling proves once again that we're always stronger and stronger when we work together towards a common goal.