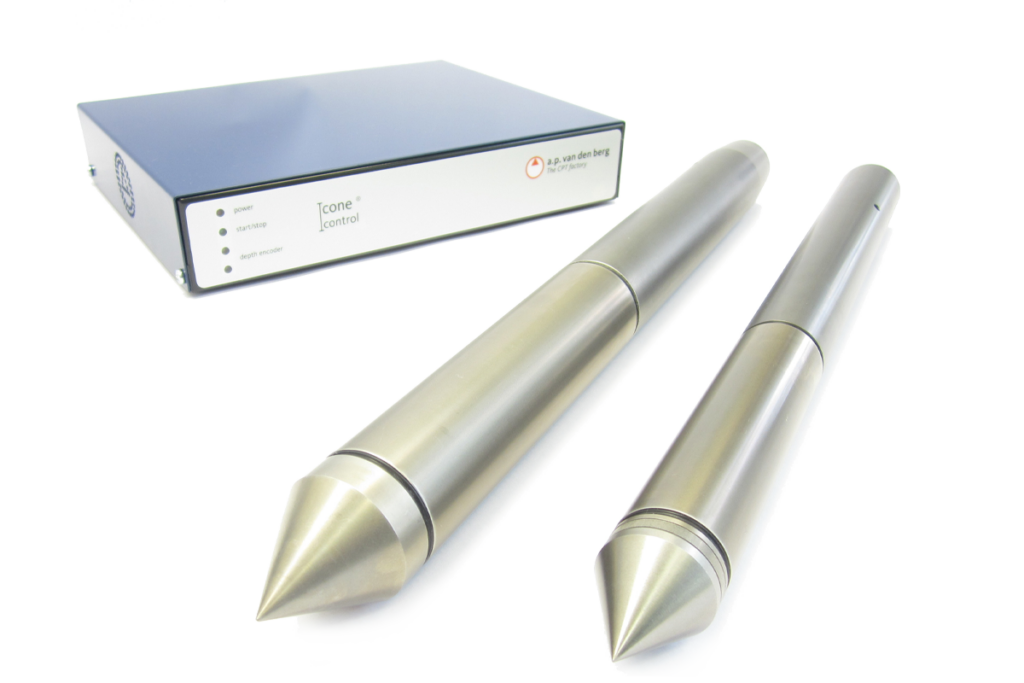 Cone Penetration Testing - CPT
Stronger, more accurate, more reliable, and easier to maintain
The base: Icone and Icontrol
To obtain detailed and accurate geotechnical properties of soils, A.P. van den Berg developed the Icone, a digital CPT piezocone, and Icontrol, a digital data logger. The Icone measures the four standard CPT parameters:
cone tip resistance (qc)
sleeve friction (fs)
pore water pressure (u)
inclination (Ix/y)
Cone tip areas range from 5 cm² – 15 cm².
Click-on modules
Using click-on plug & play modules, additional parameters can be collected:
Icone Vane (downhole electric shear vane)

soil investigation in soft soils, like clay, silt, and mine tailings
allows in-situ measurement of the peak, residual, and remoulded undrained shear strength
The electric motor drive and torque measurement are at the vane head, significantly improving results integrity by minimizing friction.

Icone Conductivity Module

detection of sand/clay layers
tracking of saltwater carrying layers
detection of contamination

Icone Seismic Module

determines the stability of the ground by measuring the propagation speed of sound
allows calculation of:

small strain shear modulus & constrained modulus
elasticity modulus
Poisson's ratio

Icone Magneto Module

3-dimensional detection of the magnetic field
detection of sheet piling, ground anchors and Unexploded ordnance (UXO)
CPT software
A.P. van den Berg develops and maintains two CPT software packages: Ifield and Ibase.
Together, these two packages provide the necessary functionality for the registration, processing, management, and presentation of Cone Penetration Testing (CPT) data. The packages are connected and offer user-friendly access to these functionalities.